Costa Rica and Germany trainings booking now
The Jivamukti Yoga® 300-Hour Teacher Training is a month-long residential program held at different locations around the world. This rigorous program taught by Sharon Gannon and David Life (founders of Jivamukti) and other senior Jivamukti Yoga® teachers is considered to be the most comprehensive yoga teacher training available. It attracts students from around the world and produces empowered, informed and confident yoga teachers.   The training teaches you to incorporate asana, chanting, music, meditation, activism and scriptural study into a challenging practice underpinned by a quest for enlightenment.  
The Jivamukti Yoga® Teacher Training will provide you with a blueprint for incorporating the physical, psychological, spiritual and mystical aspects of yoga into modern life, without losing sight of the universal goal of the practice: liberation. Jivamukti Yoga's® focus on a non-dualistic view of life (the interconnectedness of all) awakens in the practitioner not only the need to protect the environment and all the animals and plants that share the planet with us, but also teaches skills to confidently achieve those goals for oneself as well as lead others to live in harmony with the planet.
Join Facebook group Jivamukti Cambridge
"Jivamukti yoga is  a path to enlightenment  through compassion for all beings."
Developed by Sharon Gannon and David Life in 1986 yoga. Jivamukti yoga is grounded in the original meaning of the Sanskrit word asana as "seat, connection" – relationship to the Earth. The name Jivamukti comes from the Sanskrit word jivanmukta  which means  "liberated whilst living".  Jivamukti Yoga is a vigorous, vinyasa-based Hatha Yoga method  which  includes  5 tenants:-
shastra (scripture)
bhakti (devotion)
ahimsa (kindness)
nada (music)
dhyana (meditation)
An typical class presents classical yoga teachings as relevant to one's life on and off the mat, spiritual teachings from the focus of the month, supported by chanting, breath awareness, flowing vinyasa sequences, alignment exploration, hands-on assistance, relaxation and meditation.  Exuberant, eclectic music plays an integral role: you might practice to a shifting soundtrack of ragas, global trance, hip-hop, spoken word, George Harrison, Sting, Krishna Das, Donna de Lory and Michael Franti .
Jivamukti Yoga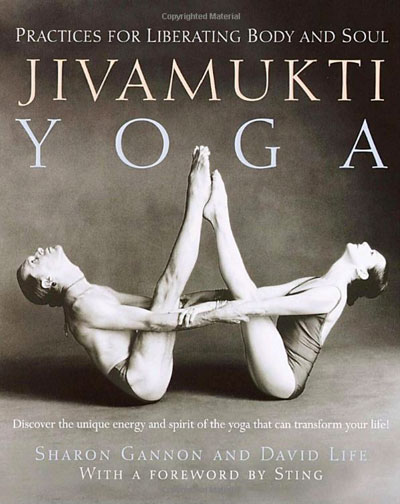 I first attended one of Andrea's Jivamukti workshops back in 2005. I knew from that very first day that Andrea was a wonderful and inspirational teacher. I've been organising workshops for her in Derbyshire ever since. Andrea is a professional and authentic yogi in every way possible. The workshops I organise for her are always well attended and new faces come to join us at every event.